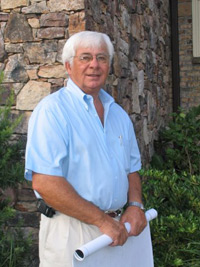 Jack Satterwhite, the company founder, owner and President has been a builder his entire life. He tells a story of helping his father, also a builder, at the early age of 6. During school years, Jack became highly skilled in all phases of residential construction by working part-time in the family business. After school, his work experiences included designing commercial kitchens for Montgomery-Green in Raleigh, NC and 17 years designing roads with the North Carolina Department of Transportation. In 1979, Jack used his extensive design knowledge, his hands-on skills in building custom homes and opened J. Satterwhite Bldr Inc. in Raleigh, North Carolina. Since that time the company grew and expanded throughout the state.
Jack Satterwhite made a name for itself in the early 80's with contemporary designed homes in Raleigh, North Carolina. When designs changed in the 90's, the company kept up with the times and began building transitional and traditional style homes. Jack's long-standing relationships with quality sub-contractors and his personal involvement with each project, guarantees the highest quality. A large part of the company's success continues to be attention to quality details and customer satisfaction.
The company continues to grow and in 2001 began building custom homes in coastal Carolina communities such as St. James Plantation in Southport, NC, Waterford in Leland, NC, River's Edge in Shallotte, NC and Bel Arbor subdivision in Wilmington, NC. Jack insists his team maintain high standards for superb quality, by providing constant supervision for each new home. He meets all time-frames for completion, and Jack is determined to make all his customers completely satisfied. The company has received numerous awards and special recognition for quality construction, attention to detail, unique designs and outstanding customer satisfaction. JACK SATTERWHITE looks forward to meeting you and helping you build your plan, or our plan, into YOUR Dream Home.
Call today for an appointment. We would love to show you many of Jack Satterwhite Builder's finished projects.